Saw a great picture of Lindsay Lohan on the cover of my buddy Chris' People magazine tonight at dinner (Paul and I love to give him a hard time about reading this stuff...):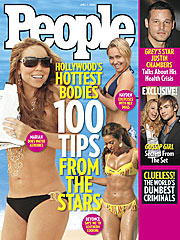 Upon further inspection, of course, I noticed it was actually one Mariah Carey on the cover there, as maybe Lindsay hit cover fatigue after the recent manipulated media frenzy. At any rate, I'm not saying either one's had any work done because I have no idea and don't really care (okay, I suppose, for the sake of keeping it real, that I'd guess that Mariah's had some work done, but why go there?)... but the fact that both Paul and I mistook Mariah for Lindsay (or, technically, did we mistake Lindsay for Mariah?) underscores the larger issue that that these issues are full of people whose looks, already very similar, homogenize over time.
How crazy is it, when you step back and look at it from say an alien's perspective, that our culture literally chooses to cut away at their skin, bone and muscle to look ever more like others who choose to cut away at their skin, bone and muscle.
It really does feel sometimes that we are living in a science fiction movie. And to get existential about being existential here, are the paparazzi and the media machine they feed the equivalents of Joel Robinson and the bots from Mystery Science Theater 3000?
Then again, we've done it to puppies and newborn boys for centuries already, no?
PS. Does it make me a hypocrite that I plan to someday have my bottom lip fixed since I bite into it at times since it bulges out a bit after having had six stitches in it from a sucker punch back I took from a giant ex-team-mate on the basketball court? Not cosmetic, but functional?...